Electrallo will be participating in the following events in March:
Electralloy amped up for AMPP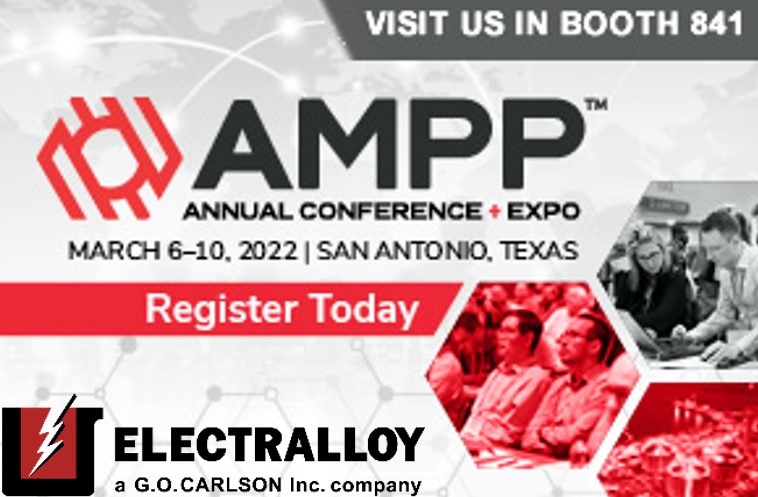 Join Electralloy at the AMPP Annual Conference + Expo, March 6-10 in San Antonio, Texas at the Henry B. Gonzalez Convention Center. We're excited to be back out on the road, so please stop and see us at Booth #841.
The 5-day conference combines the former CORROSION and Coatings+ events into the new AMPP Conference. This newly merged event will feature a robust program of technical symposia, forums, workshops, standards and administrative meetings, networking events and a full exposition with a large equipment display.
Electralloy representatives Mike Evans, Greg Chirieleison, Tom Buckley and Scott Pyle will be available to discuss how our specialty alloy products can stand up to the most corrosive environments and meet your most demanding performance standards. When there is no room for error, the metal makes the difference.
For additional info on the AMPP Conference + Expo, hotels and things to do in San Antonio, click here.
Electralloy for the defense: SIBC Supplier Days & ACIBC Action Days on Deck in March.
As a key supplier of specialty alloys used in critical applications across many defense platforms, Electralloy will be participating in:
SIBC Supplier Days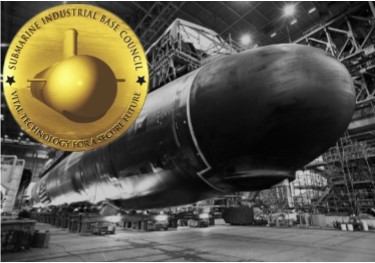 Electralloy will attend SIBC's 31st Annual Supplier Days event on March 8-9, 2022 in Washington, DC at the Grand Hyatt Washington.
Representatives from Electralloy will include Ed Horner, Distribution Product Manager, Stelios Trikoulis, Northeast & Southeast U.S. Region & Eastern Canada District Sales Manager and Rebecca Rudolph, Inside Sales Specialist.
Supplier Days will include briefings on U.S. Navy submarine programs, networking reception and dinner. SIBC members will also meet with their Senators and Representatives in support of submarine-related legislative priorities.
The SIBC event is focused on bolstering the strength of the U.S. submarine force and reinforcing the importance of the submarine industrial base to the nation's security.
ACIBC Action Days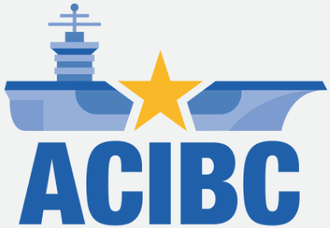 The annual ACIBC Action Days will be held on March 22-23 to bring together coalition members from across the country. During the two-day event at the Willard InterContinental in Washington, DC, attendees will discuss issues concerning the industrial base and meet with their Members of Congress to bolster the critical importance of the aircraft carrier program.
Electralloy will be represented at Action Days by Stelios Trikoulis, Northeast & Southeast U.S. Region & Eastern Canada District Sales Manager.
Aircraft carriers are built and maintained with parts built by over 2,000 businesses spread out across the United States – helping inject $8.8 billion and over 92,000 jobs into communities across the country.
ACIBC seeks to preserve the strength of the aircraft carrier force and promote the value of the aircraft carrier industrial base as a vital part of the nation's overall defense structure.