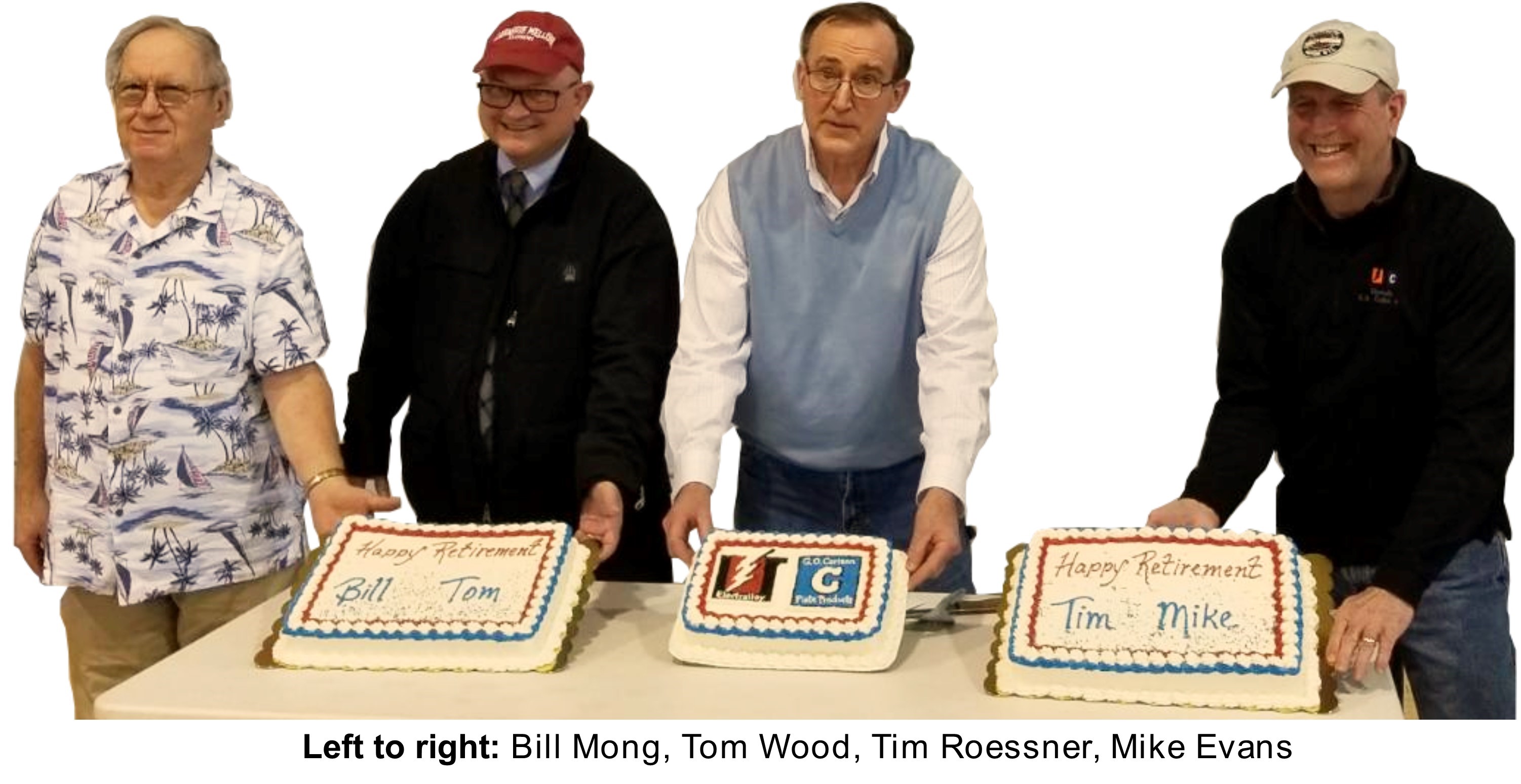 There will be a changing of the guard at Electralloy this April and May as Tom Wood, Tim Roessner, Mike Evans and Bill Mong all pursue the next chapter in their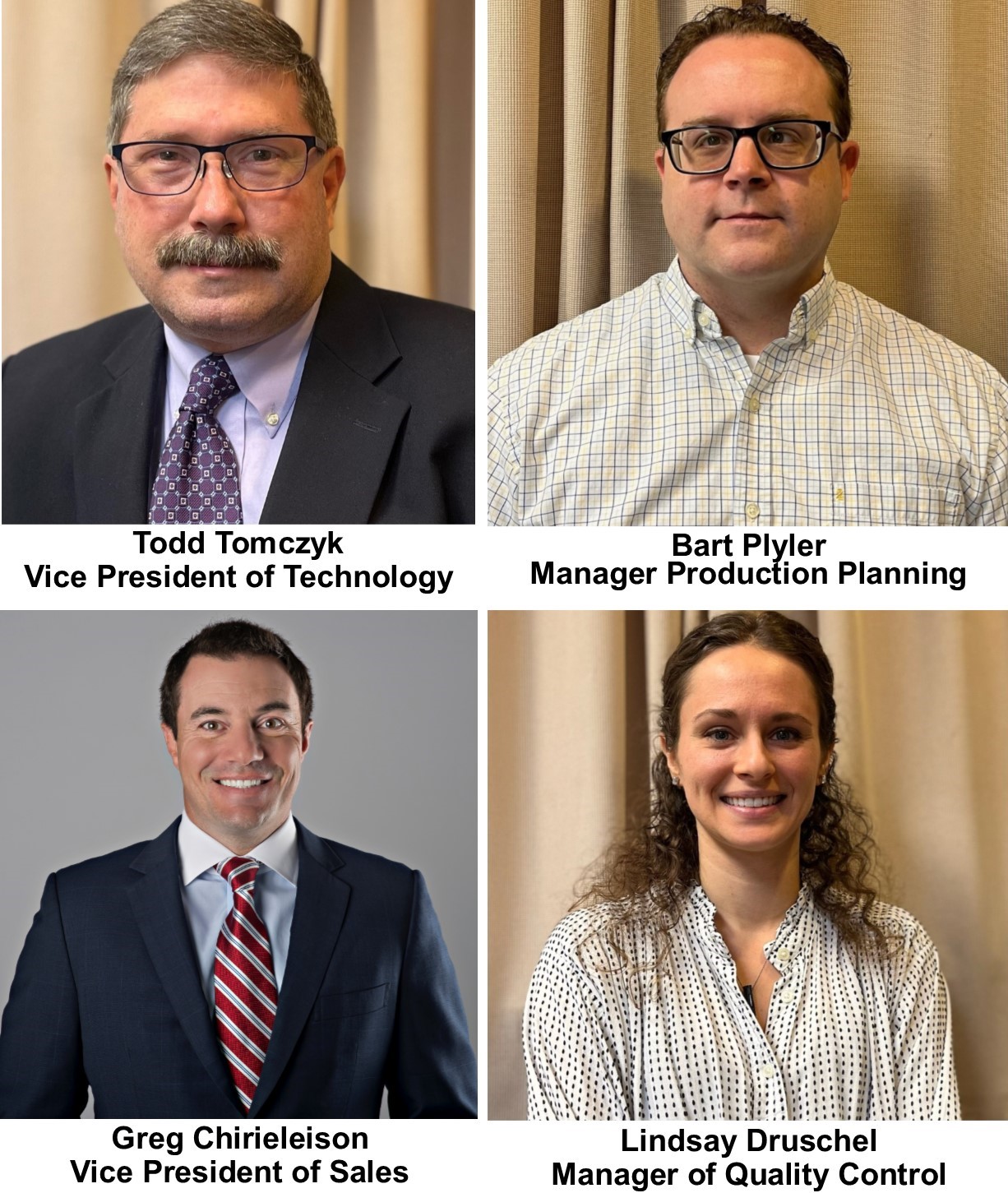 lives.
Tom Wood retires as Senior VP Operations and Technology after 30 years of unparalleled service. Todd Tomczyk, Vice President Technology, will take the reins.
With over 29 years in the metals industry, Todd has held positions with RMI Titanium, including Forge Shop Engineer, VAR Melt Engineer and Manager of Technical Services, and with TIMET where he was a Product Manager, ran the Outside Conversion Department for North America and commissioned the Morgantown VAR Shop. Todd joined Electralloy in August of 2021 as Vice President Technology.
Tim Roessner, Vice President of Production Planning brings his stellar 28 year career with Electralloy to a close and will pass the baton to Bart Plyler, Manager Production Planning.
Bart has been part of the Electralloy team for nearly 11 years. Much of his tenure has been in Quality Control where he worked closely with all departments. Bart is also the primary Certified Pratt & Whitney Representative for the organization. In July of 2021 he became Manager Production Planning.
Mike Evans, retires as Vice President of Sales after 23 years of invaluable service. Mike's retirement plan is "to go riding". Greg Chirieleison, who has been onboard since November 2021, will assume the Vice President of Sales mantle.
Prior to joining Electralloy, Greg delivered successful commercial outcomes for Haynes International and Ixom Watercare. Having lived and worked in Asia for a decade, Greg takes pride in bridging business and cultural differences to build long-lasting relationships. Greg holds an MS in Materials Science and Engineering from the Colorado School of Mines and an MBA from the University of Tennessee.
And lastly, after an amazing 48 years of dedicated service to Electralloy, Bill Mong, Manager Quality Control will now pursue accreditation in travel and leisure when he hands oversight of all things quality to Lindsay Druschel, the new Manager of Quality Control.
Lindsay has worked in Quality for over 13 years, with career stops at BASF as a Quality Control Technician and Komatsu Mining as Quality Engineer.
She has been a part of the Electralloy team for 5 years, serving as a Quality Control Technician, Assistant Chief Chemist, and now as Manager of Quality Control. Lindsay has a Bachelor of Science in Biology from Chatham University.
"I want to thank Tom, Tim, Mike and Bill and recognize them for their exceptional dedication and contribution to Electralloy over the years," said Tracy Rudolph, President/COO. "They have been instrumental to our success and we wish them the very best. We have been planning and preparing for these four retirements and have every confidence that there will be a seamless transition as Todd, Bart, Greg, and Lindsay take over these roles and build on the foundation that is in place".